What is Working Remotely?
Remote work is kind of a new strategy that companies worldwide are implementing nowadays. Think it this way, instead of having your human talent going from Monday to Friday to the office they can work from home, from a coworking space, a cafeteria or from any spot around the world.
It is based on this modern concept that people can do the exact same work and even a better work without having to be in a office for 8–10 hours straight, that let's be honest, nobody likes it.
Why Going Remote?!
There are a multitude of benefits for both, companies and employees from applying this working style that has been increasing over the years and it's becoming a trend nowadays.
There are some facts that companies should know when they implement a working remote style, some of these are:
Employees are happier and more successful working remotely
Letting them working remote is a better bonus than giving them cash as a reward.
It opens your human talent minds, they can do an exact same job from different perspectives, because they are going to be working from different places around the globe, so they will be interacting with a lot of different cultures.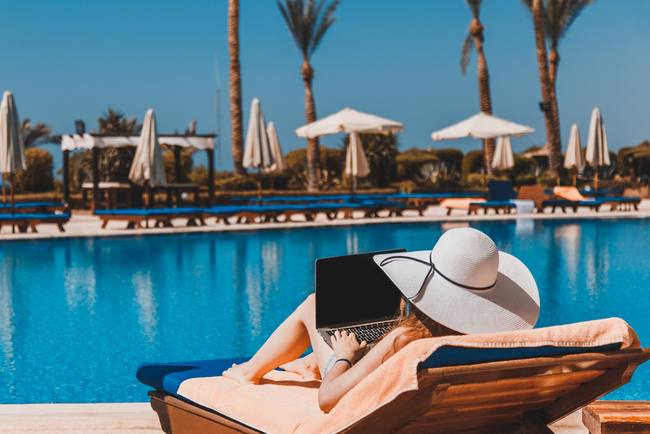 Second, employees are more efficient and effective doing there work with this kind of style and here are some of the reasons why this happens:
A More Flexible Lifestyle
This is the principal reason, when you don't obligate your own team being in an office for long periods of time, they start balancing work with their own activities. For example, if you have a family, yo can spend more time with them while working or taking breaks to be with them.
Other common example, is if you are more a night person, you can take your mornings to relax, exercise, go for a coffee and just adjust your work between the afternoon and night. This kind of things helps your people to be more active, creative, efficient, etc.
Passion for their Job
Working from a different place everyday increases their creativity and also is a boost of motivation for them because every person has their own time during the day that they will perform at their best.
Cost Savings
When companies addapt this work style they benefit their employees but also them. When they established complete and well distributed teams for their departments, the companies saved in different aspects like rent or furniture even if the whole team is not working a 100% remote.
How Can You Transition?!
It is not a difficult thing to do but it is going to be something that is going to take a considerable period of time. Also, you don't have to go 100% as a remote company, you can be a 50/50 and still see a lot of benefits from this. Some steps you can start implementing are:
Ask your human talent if they prefer to work remotely or on site.
If they prefer to work on site, take it easy, you can give them a day per week of WFH(Work From Home).
If they want to go remotely, be cautious, start by giving them from two to three days per week for a three to six months trial and see if it is working.
If it works, give them a whole month of WFH and evaluate their performance daily.
At the end, if the numbers are good, just go remote.
Still having doubts?! Big companies are going Remote too…
With actual situation with Covid-19 and also trying to go ahead of the market in topics like innovation and adaptation a lot of organizations worldwide are working remotely.
Some important and big organizations such as Facebook, Apple, Twitter, Shopify, CoinBase, among others are adapting to this new reality and implementing this working style.
In Conclusion…
Going remote is not an easy thing but it is not an impossible thing to do. The thing is that in the future, organizations worldwide are going to implement this working style, so it's better start adapting to this new methodology now and in that way in the near future you will be ahead of the market even though you aren't a 100% remote, and your organization as a whole will be more productive, efficient and effective than in the past.
Just one last thing to say… adapt, innovate and GO REMOTE!!!