Nowadays outsourcing is a business model adopted by many companies due to the current situation. Coronavirus came to change the way of how work is being done; the pandemic is accelerating the digital transformation. According to McKinsey Global Survey "companies have accelerated the digitalization of their customer and supply-chain interactions and of their internal operations by three to four years. And the share of digital or digitally enabled products in their portfolios has accelerated by a shocking seven years.
Nearly all respondents say that their companies have stood up at least temporary solutions to meet many of the new demands on them, and much more quickly than they had thought possible before the crisis. What's more, respondents expect most of these changes to be long lasting and are already making the kinds of investments that all but ensure they will stick."
As you can see the pandemic made long-lasting changes such as digitalization which is also increasing the costs of everything such as the number of customers. Due to this, companies now need even more technology roles because of the high demand. The reason why a lot of companies adopted the outsourcing model. As claimed by Stephanie Overby  "outsourcing  is a business practice in which services or job functions are farmed out to a third party."
But actually, outsourcing is more complex than you think, there are a lot of different type models when it comes to outsourcing but, in this blog, will be going deeper into three concepts and mentions their pros and cons so you can really know which business model fits best for your company.

Project-based outsourcing
Is the first concept, and it is one of the most popular. As mentioned by the IT Outsourcing Review "in project-based outsourcing you delegate the completion of an entire project to a third party. This typically involves having to first explain the full requirements of the project to members of the outsourcing company, such as project managers and business analysts, and they will be responsible for forming the development team and seeing the project through to its completion." Ok, so basically a whole different team makes sure that your project is done with all the requirements that you requested. Telling you all this sounds like a great deal but what is the catch? What are the pros and cons of this business model and why it is so popular?
Project-based outsourcing is popular because this gives the option to companies to focus on their core functions and delegate the tasks that need to be done but aren't highly important. Also, it has its pros, in this model communication is key; a project manager is assigned to a team and is responsible for crystal clear communication between the team and the client. Overall, it improves productivity and efficiency.
Also, by working with a team as in the case of 4Geeks Teams you get a lot of different skills working all together to make sure your project is complete. Cross-functional members with a different skill set, different perspectives but all inrailed to the client's objective by keeping eyes only on the deliverable; it really makes a difference, and you could ask clients such as Smarter Select, Pfizer, and CannaSafe.
However, project-based outsourcing has areas of improvement or the despiteful word of "cons". Being laser focused on a single project could be a problem…sometimes, because the project managers forget to see the "bigger picture". Hence, you really need to know the project manager that you're hiring, their time management skills and communication skills need to be on point.
I know that you really liked the project-based outsourcing model but let's keep digging. You should consider the other options to have a concrete decision of the right fit for you. We still have two more to go. Freelancing and the dedicated team model, these types are also popular. Now freelancing is even a lifestyle but for companies, it really depends on the size of the project to decide if they need a freelancer or a team.
Freelancing
As defined by Investopedia "is an independent profession wherein an enterprising individual earns money on a per-project basis and usually for a short-term contract. A freelancer differs from an outsourcing company as they are not employees of a firm." So basically, a freelancer helps you with a task for a short period of time or as many tasks as you required.
The advantage of opting for freelancing is that freelancers usually dedicate more time to your project. Because they have more flexibility in the work schedule and have the freedom in many to work from home which allows them to create their unique concentration workstation, so, in the long run, they're more effective and efficient.  Another advantage of working with freelancers is the money you saved as a business owner. Due to the nature of their work, and the time they managed in it. You can pay the fees directly to them and skip all the recruiting fees and long hiring process which usually takes a month. So, there won't be any valuable resources getting wasted.
Since freelancers have the freedom to pick a variety of projects because their work is based on results. They could be engaged in too many projects at once which could deteriorate the quality of the output that they provide to their client. In addition, since freelancers work on different projects, they might have security risks regarding the company's private information or sensitive data. A freelancer needs to be careful with the data so that it isn't misused, mishandled, missing, or even exposed because they were not careful.
Now you have a bigger picture of what business model could work for you, but you're still missing the last model.
Dedicated team model
As explained by Eastern Peak, "is a business model that refers to an agreement between the client and service provider, when the latter provides software development professionals to the client on a long-term basis. These specialists are chosen according to the demands of the client for their experience and skillsets. The client may decide to manage the team from his or her side or to assign the service provider's project manager to coordinate the communication process. The team usually works from the services provider office."
Therefore, a dedicated team model is pretty easy, you just name the skillset required and how experienced they are, coordinate the communication process, and done. But are there any drawbacks? Absolutely, there is nothing so good to be true. But first, let's take a look at the advantages.
First of all, you have full control over the team and project manager, so if you don't like a developer or the project manager you can take matters into your own hands. Hence, you can change the project priorities, and rest assured that someone will always be available if you have any doubts or need any extra help with a task.
Now the sad part...try not to get too attached to any member of the team because they could be getting switched to a different project at any time. This is because the dedicated team model focuses on the project itself, the main goal is to finish the project with pure efficiency. If a member isn't needed anymore, you'll need to say goodbye and wish them the best. Furthermore, if you picked a company with a different time zone, probably you'll have a language barrier, and remember this, for the successful completion of any project, communication is fundamental. Likewise, take into consideration that you can have effective communication with the team that you're hiring.
All right, now you have the top three outsourcing business models for your IT company, we explained the difference between them, the advantages and disadvantages. Considerate that all these models could be applied onshore and offshore. If you don't know what this means we'll explain it to you:
Onshore outsourcing
Means hiring the services of an agency situated in the same country as the hiring company.
Offshore outsourcing
Means going beyond the national borders of the hiring company.
Usually, companies prefer using offshore outsourcing to reduce costs and access to quality talent for a cheaper price. In addition, the most popular business model of the three is the dedicated team model, because companies usually have projects for the medium and long term which makes this model the most viable option. Nonetheless, there is one more business model that we should mention; staff augmentation.
Staff augmentation
As mentioned by Outcoding " is an outsourcing model that helps businesses extend their in-house team for a certain period of time. This means companies can hire experienced, specialized employees for both short and long-term that are suitable for the project, without taking responsibilities that come with conventional hiring. Through staff augmentation, employees are chosen according to their expertise and skills that can help businesses to fulfill their initiatives. During the arrangement, the personnel remains an employee of the service organization, however, the client maintains complete control over their job responsibilities, processes, and most importantly, deliverables"

Staff augmentation is pragmatic, you just contact an outsourcing company for the project that you have, specified all the requirements, expertise, skills, and in a blink of an eye, you'll have developers working for you as part of your in-house team. In other words, these developers will co-work with your current team. The advantages of this model is that there isn't any HR assistance necessary nor recruiting fees (for some companies). The price is lower than an in-house employee, there is a lot of flexibility so if you need to reduce or expand your team it is doable.
The cons or disadvantages, as we mentioned you don't need any HR assistance, but you still required an onboarding process, also there is a learning curve for the staff getting hired. Because they don't have the technical knowledge or in-depth knowledge compared with the existing employees. Hence, new onboards need to be educated according to the project requirements.
Another problem is that with time, the agency will collect a fee for extending you that talent if you need it. In the same way, and as we mentioned in the previous paragraph as there are some companies that will not charge any recruitment fees to their clients, there is also a great majority that will charge a recruitment fee, around $500 USD (more or less) to start the recruitment and selection process. Nonetheless, in the long run, staff augmentation could be detrimental to your project.
It really depends on you what business model is right for you, but we will explain a quick guide based on your different needs to sort out which is the best outsourcing model for your company.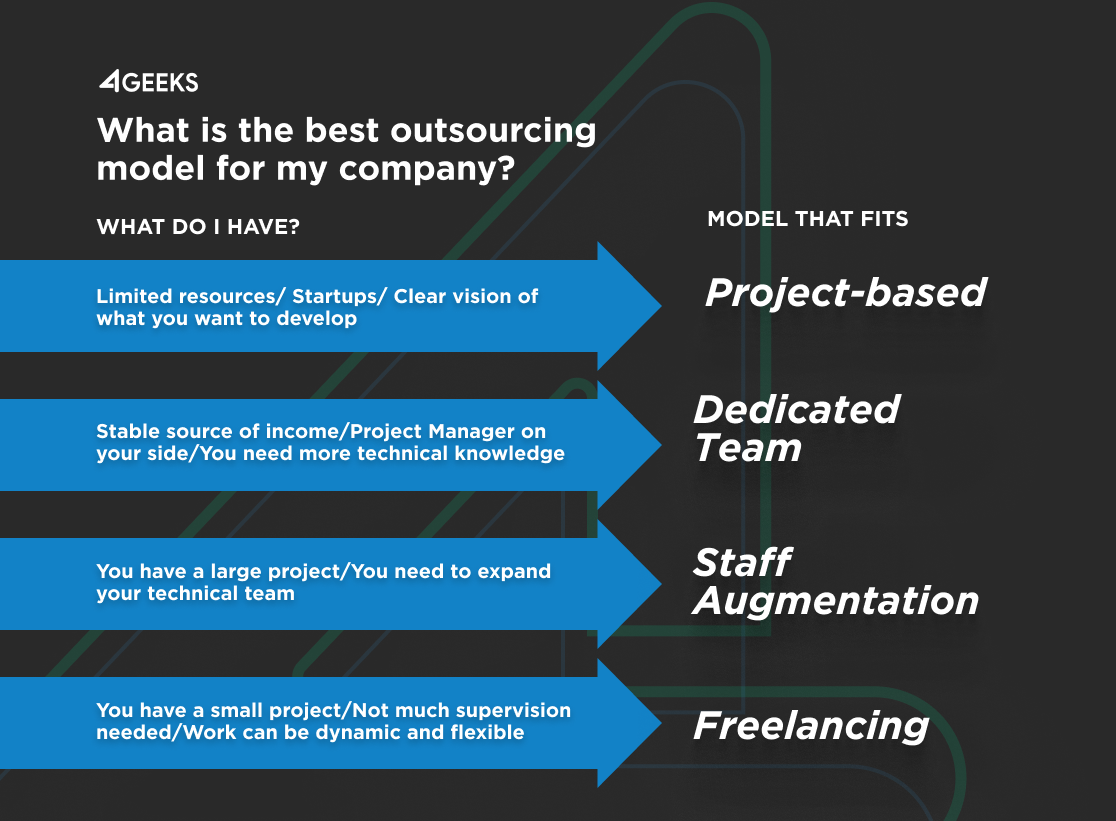 If you have limited resources, you're a start-up, you have other important responsibilities and your team is making sure to complete them or you are sure and have a crystal clear vision of the digital product or service that you want to create. A project-based model works best for you.
Otherwise, you have a Project Manager on your side, you require knowledge in the technical field, and still want to be the one making all the decisions as if you're in charge. A dedicated Team Model is the perfect fit for you.
Nonetheless, you have a big project in mind and need to expand your team, need technical knowledge in the area of expertise, have a CTO (Chief Technology Officer) and already have a team working for you. Staff Augmentation Model suits you best.
Last but not least, if you have an idea in mind for a small project which doesn't require too much management, work can be dynamic, remote, and based on results. Freelancing is the right model for you.
Now you even have a quick guide of which model suits you best, as I already mentioned all these models have their different things and they can be applied offshore, onshore, and nearshore. It depends on your requirements which model to pick.
Furthermore, which option will you pick?
We can assure you that 4Geeks Teams is one of the best choices to pick, you will get quality talent, English-based speakers, and outstanding performance with more than 10 years of experience in the market.
So what are you waiting for, if you have an idea on your mind and the right budget for it, schedule a meeting with us! We'll make sure that you have a team of full-time remote & fully-tested software engineers in Latin America, within 3 days!
Written by Jurgen Schultz