Voice services game players are doing a great job on enabling new ways to make life easier by using its voice products. In particular Google is pushing hard to
Customers already knows that people don't just want to get know the weather forecast or something like that. They demand more value and smart solutions. Put simply, they want an easier way to get their shopping tasks done.
Recently (March 2018) Google announced Shopping Actions to let user to order products from stores directly from a simple web search, Google Assistant or any "Google place".
In addition, Shopping Actions uses a pay-per-sale model, meaning you only pay when a sale actually takes place. Shopping Actions appear within the sponsored Shopping Unit on the Google Search page, and on Google.com/Shopping. No organic rankings are impacted or changed.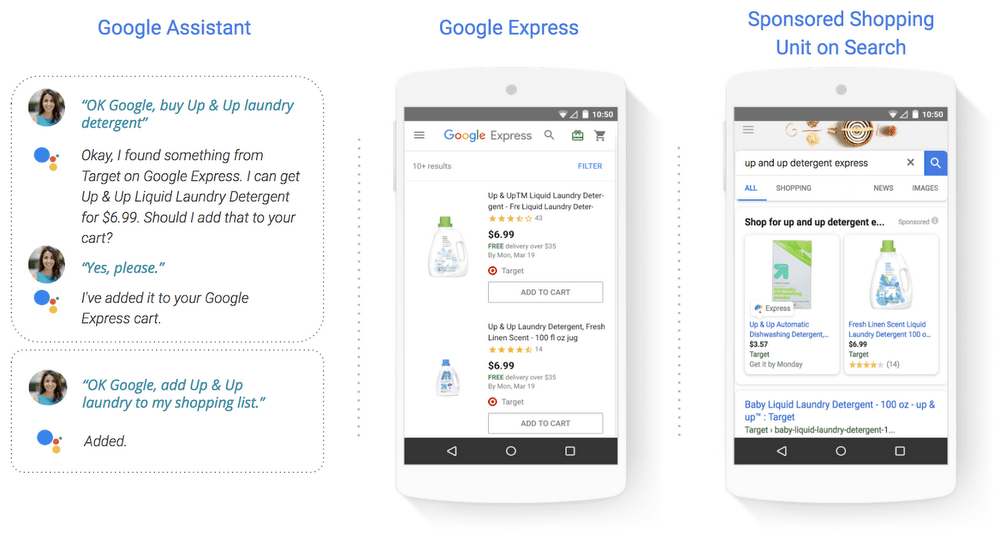 So far, Google is encouraging companies to see it as an ally against Amazon. "We have taken a fundamentally different approach from the likes of Amazon because we see ourselves as an enabler of retail…We see ourselves as part of a solution for retailers to be able to drive better transactions," Google's president for retail and shopping Daniel Alegre told Reuters.
Google explains the main features of Shopping Actions to retail and e-Commerce industries:
Surface your products on new platforms like the Google Assistant with voice shopping.
Help your customers shop effortlessly with you, across Google. A shareable list, universal shopping cart and instant checkout with saved payment credentials work across Google.com and the Google Assistant — allowing your customers to seamlessly turn browsing into buying.
Increase loyalty and engagement with your highest value customers.
Over the past 6 months, Target said the number of items in shoppers' Google Express baskets have increased by nearly 20 percent, on average, as a result of its tie-up with the internet company.
From now every single Google user (from mobile devices, desktop or Google Home) can buy products directly by voice.
Remember: Smart voice devices like Amazon Echo and Google Home will be installed in 55 percent of U.S. households by 2022, according to Juniper Research. This is a great opportunity to increase sales and engage users.
If you are into e-Commerce or retail industry and want to reach out more customers nation wide, please contact us to refer you the Google Shopping Action program.
About 4Geeks
Founded in 2012 by Allan Porras, 4Geeks is a global software engineering and revenue growth consulting firm for Fortune 500, Global 2000 and fast-growing SMBs. Provides top solutions to multiple industries including Retail, Healthcare, Banking & Financial Services, B2B SaaS, Manufacturing and Education. HQ in the USA, and delivery centers across Latin America.