Everybody has witnessed that even with a tragic pandemic, the world goes on. And that's why "reinvention" is the word we've heard the most for the last year. Along with this reinvention, different kinds of businesses had to venture into a world of technology and engineering. And there's where staff augmentation services have their advantage.
But, what is a staff augmentation service?
A staff augmentation service finds the IT specialists for you temporarily either to strengthen one of your projects or because your company does not have expertise in that area at all.

It's ok if you feel skeptical about this type of outsourcing. Just let yourself learn a little bit more about it, because it could be the solution that your company is looking for.
Why is Staff Augmentation trending in 2021?
After the pause that was 2020, every industry is recovering and coming back to track. And a common way to do it is by adding highly skilled developers to your team. So if you allied with a staff augmentation service, your company will be able to maximize the budget. How? Well, every time you have a project that demands more knowledge, you can rapidly add it to the team.
As the project grows, you can balance staffing to the proper level.
At the end of January 2021, staff augmentation services are already trending, and this is why:
- Fewer burnout employees:
Burnout is a psychological process and happens due to a prolonged period of stress or excessive work hours. Signs of burnout include the feeling of emptiness, frustration, and exhaustion. By getting a staff augmentation service during stressful and busy periods, your permanent employees can take it easier and avoid burnout.
-Higher cost-effectiveness:
The company hires IT, specialists, only when they are needed. Staff augmentation can reduce business general costs associated with maintaining staff for seasonal projects. Also minimizes costs associated with administrative functions. Actually, 4Geeks Teams don't charge for their HR services, meaning search for, interview, onboard, and train your new employees.
-Quickly adaptation:
Usually for the IT project that you need to have done soon, it's not essential the staff augmentation has a big introduction or training into the essence of your company, which can take months. Pretty much, knowing the basics of it, the work will be perfectly done. Besides, in the case of 4Geeks Teams, the necessary skills of the candidates have been previously identified, reducing training time while betting on productivity.
-It's the right decision
If you aren't sure that a project needs permanent employees, this can be a way to figure it out. Moreover, if you are in a hurry and just need to hire people, you won't really realize whether they would serve the purpose for the long term or not. That's why staff augmentation is a better option.
How do you know you need staff augmentation?
For sure, you need staff augmentation if you…
Don't have time for a hiring process: staff augmentation services can hire engineers consultants and contractors more quickly than full-time employees because all their candidates have been preselected. Once you do your request, it will be a matter of days (two days in the case of 4Geeks Teams)  for the staff augmentation service to present you someone with all the skills your company seeks.
Want Discretion: It happens that managers of a company want to implement a new platform, but it would be preferred to not present it to the stakeholders (and employees in general) until there´s evidence that it works. So staff augmentation is the perfect solution in those cases.
Like to take advantage: Give your company the chance to innovate and get ahead of the competition. The truth is that staff augmentation services have a great store of talent that would take your task a long way in front of your rivals.
Need specific skills: If your company usually has to look outside the organization to IT consultants, and freelancers for specific and highly specialized technical skills, it can take a lot of time and energy, while your firm selects some candidates, interviews them, etc. Staff augmentation adds skilled resources to its existing staff. This is possible after a reunion where the company explains the project and specifies the skills that the candidate must have. After this, the staff augmentation service presents some profiles closest to their needs, and it's the organization that chooses its staff. At least, that's how 4Geeks Teams works.
Convinced? 4Geeks Teams can help you
4Geeks Teams connect LATAM-based talent (software engineers, designers, data scientists, product managers, and more) to great tech-based companies.

Our candidates are experienced in technologies like Python, Ruby on Rails, Javascript, React.js, React Native, Salesforce, Java, PHP, and some others.
But, the best of all is that 4Geeks Teams pricing starts at $2500 USD per full-time software developer per month. You will receive only one monthly invoice that includes everything (office, workstation, computer with webcam, etc). So, you don't need to take care of any extra things, processes, or legal documentation.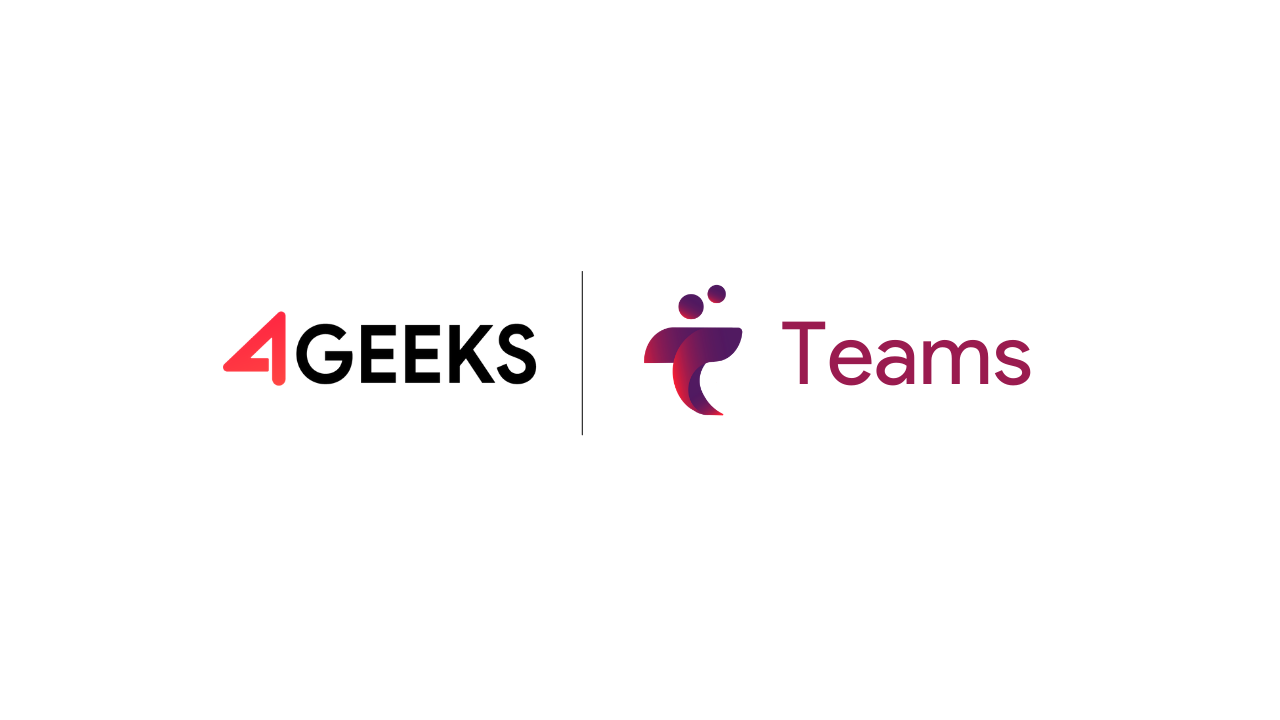 Written by Valeria García