We're in 2019, so I don't need to convince you that blogging is one of the most effective ways to attract organic leads massively to your business, with minimal (or zero) investing.
No matter what about your business is (professional services, digital products or even physical products) or what's your business industry (Marketing, Healthtech, Fintech, SaaS, etc)… this is for you. It should to be.
I have been writing articles on blogs since 2010 on many personal or third-party blogs, but the main key to should take seriously about blogging it's because of you need attention from your audience before selling. Period.
So here I will mention some free blogging platforms that I have used before:
#1 WordPress
WordPress is a complete content management system (CMS). Features include a plugin architecture and a template system. It is most associated with blogging but supports other types of web content including more traditional mailing lists and forums, media galleries, and online stores.
WordPress is used by more than 60 million websites, including 33.6% of the top 10 million websites as of April 2019. WordPress is the most popular blog/website management system in use.
Third-parties services like EasyWP allow you to create a new WordPress blog from scratch in 5 minutes, at $3.99/month . They provide installation, hosting, security, backups and everything you need. It's a good option to start blogger this week.
#2: Blogger
Blogger is my favorite platform to write articles on Internet. Built by Google, Blogger is a great platform to start blogging right away. It is totally free; only you need a Google email account like Gmail or GSuite.
Blogger is highly customizable, so you can select you favorite blog design or submit your own theme. Also you can invite more collaborators to write with you.
If you don't have a domain name, they will provide you a *.blogspot.com domain for free, or optionally linking your current company domain name.
#3: Medium
Medium is an online publishing platform. It's an example of social journalism, having a hybrid collection of amateur and professional people and publications, or exclusive blogs or publishers on Medium, and is regularly regarded as a blog host.
#4: LinkedIn Pulse
Some years ago LinkedIn acquired and integrated Pulse into their social network tools as a game changer function. LinkedIn Pulse allow you show your talent and your value to your audience. As more people comment or recommend your article, the LinkedIn algorithm will show the article to more and more people … in seconds. Literally.
If you already have a LinkedIn profile, you could start blogging at this exactly moment. To start to need to open LinkedIn in the browser and click on "write an article on LikedIn". You don't need a website, and then you can share your post in Twitter, Reddit, Email, etc.
Need inspiration? Read "The Best of the 10X Rule" by Grant Cardone on LinkedIn.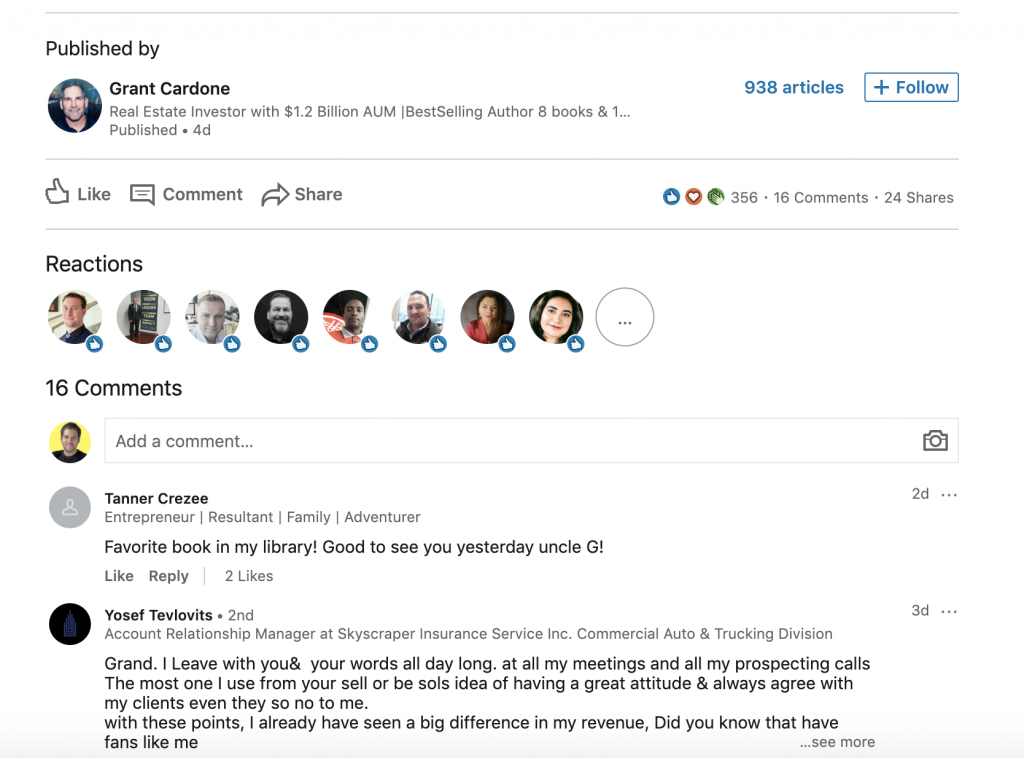 #5: Facebook Notes
Similar to LinkedIn Pulse, Facebook allow you to start blogging right away by writing Notes without a website. It's a very easy tool to start and leverage on huge Facebook audience to get readers. Optionally you could promote your articles, using Facebook Ads, to reach out more readers in specific industries or regions.
Take look at the Gary Vaynerchuk's notes on Facebook. If you want more information, platform tips and SEO tips, read this article from Facebook staff.
About 4Geeks
Founded in 2012 by Allan Porras, 4Geeks is a global software engineering and revenue growth consulting firm for Fortune 500, Global 2000 and fast-growing SMBs. Provides top solutions to multiple industries including Retail, Healthcare, Banking & Financial Services, B2B SaaS, Manufacturing and Education. HQ in the USA, and delivery centers across Latin America.