Design and develop a digital product is not a easy task, usually people think that develop digital products as Spotify or Netflix was easy and just depends about a platform or API to connect with different devices. A few years ago we would only speak about "websites", which were mostly showcasing your company. Sometimes an e-commerce section would be provided as well but not e-commerce have a transformation to mobile commerce, people usually smartphones or laptop around 20 hours per week.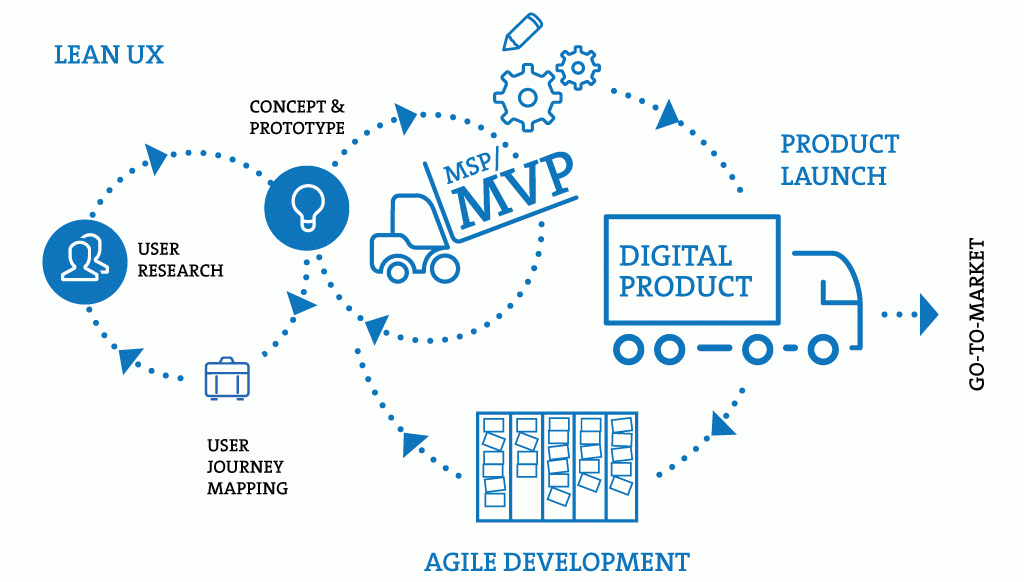 Growth digital product now is necessary to stay competitive in a global word, usually companies are looking ways to attract new emerging markets, a solution-based approach to problem-solving rooted in "Design Thinking" will ensure you invest in the right idea.
MVP
Do a market research to clearly outline the problem your target audience is facing. Also, find out if they are willing to pay (and how much) for this service you are about to build and ideate with help of friends and family.Perhaps you already have the perfect idea. But it can be good to use different brainstorming and ideation techniques as Canvas Model can help you think outside the box and reach a wider list of potential solutions. Then you can investigate and test to narrow the list to the best one.
Define the budget , initially you also need to define what financial assets you have at your disposal. Make sure you have enough resources for the post-launch phase. The product will likely not be profitable from day one and may require further iterations and tweaks to become truly valuable.
Define a MVP is important because the first version of the ptoject can quickly become over-complex and modular approach will ensure you don't spend resources on features that turn out to be unnecessary. Cut out all the nice-to-have features for now, start with something small and build on it. This approach will make it much easier to change direction if needed.
Sketching
When you define a correct MVP is necessary check about the minimal features and specifications of this digital product, usually always think in a app or website with GPS, face recognition fingerprint unlock, but this requirements maybe can wait and define more technical details that can help to user experience and encrypt data correctly.
Sketching always allow to have a before prototype 3D or a general idea about this digital product and can change possible details in the future.
Prototyping
Before actually starting development on the first version of your product, you can ask to have a scaled down version or "prototype" developed. Is necessary to check the correct concept of this digital product, people usually not have in mind how works and prototyped method and how can help to reduce common problems and wrongs. Maybe this prototype will have only a basic design, include only the main features and won't be fully integrated into the rest of your architecture.
Define tests with your team and your target audiences important and then continue with market test and needs of market . And see how they react as real users. At this stage the discussion shouldn't be about design, but more about functionalities.
Development & Launch
Defining minimal functionalities of app, website or another digital product, we can implementing development process, technologies implicated in the process can change about time and phase of the initial development, develop digital product is part of the digital companies transformation.
Launching a digital product is another phase of development because need to prove user experience with beta tester and marketing with segment audiences.
Support
Often overlooked, the maintenance and support are not the most exciting part of digital product development. But if your product is successful, this will be the longest stage. And might end up costing much more than the initial creation and launch if you don't plan and safeguard resources for it. Often your development partner will offer value for money long term service level agreements.
So make sure to clearly specify this with your provider upfront, be it an external company or a dev team within your organization.
You don't want to face the nightmare scenario of post-launch bug-fixes damaging your product reputation because your resources have been moved to another project.
---
About 4Geeks: 4Geeks is a global product development and growth marketing company, and all-in-between, focused on 10X ROI for startups, small and mid-size companies around the world. 4Geeks serves industries like E-Commerce & Retail, Startups, HealthTech, Marketing, Banking & FinTech and Real Estate. Headquartered in United States, and nearshore development centers in Mexico and Costa Rica. Pura Vida!
Plan to start an extended engineering team in Latin America? Start right here.
About 4Geeks
Founded in 2012 by Allan Porras, 4Geeks is a global software engineering and revenue growth consulting firm for Fortune 500, Global 2000 and fast-growing SMBs. Provides top solutions to multiple industries including Retail, Healthcare, Banking & Financial Services, B2B SaaS, Manufacturing and Education. HQ in the USA, and delivery centers across Latin America.