There is a basic business rule to ensure growth and  "produce cheap, sell expensive" most companies in any industry were looking for ways to reduce their operation cost, rise production rate and incremente revenue.
Historically they outsource some or in-full task to an external team, generally located in a region where salaries and governments requirements are less than usual. India and Ukraine, for example, are top countries specialized on receive specific works from other US-based companies.
That's the old outsourcing model called offshoring. This model does not work anymore, because of tons of factors like timezone, culture, communication, collaboration, etc.

In business, in any industry, competition is fierce. So, building a competitive company is not an option to survive and win. That's why nowadays companies are migrating from offshoring to the nearshoring.
In this blog post I will share with you some points you should check before to explore a modern outsource option your business operations to a nearby region, like Mexico, Costa Rica or Colombia where innovation, labor pool and political stability are optimal to build world-class engineering teams.
After reading this you could have more data to make decisions about if your startup or company is ready to explore nearshoring, as a better version of offshoring.
Nearshoring is in the room.
There is not a perfect system. Offshoring was good in past times, but communication on high-performance teams is crucial to guarantee a healthy business grow.
According to Oxfoard dictionary, "nearshoring" is the practice of transferring a business operation to a nearby country, especially in preference to a more distant one.
Once your engineering team is located in near locations, you will get inhered features like access to universities and great resources, technology friendly, modern infrastructure, great place to work, world-class methodologies, focus on quality assurance
But I see real advantages in starting an engineering or digital consultant team in nearshore destinations (Latin America):
Similar Time Zone
Agile Oriented Development Centers
Lower Turnover
Cultural Affinity = Higher Value Consulting
Innovation and Intuition
English Language Skills
More Collaboration, Better Relationships
Ease of Management
Fraud Prevention, Patent and Copyright Protection
Reduced TCO (Faster Time to Market)
Top nearshoring locations
If your company is located in Europe or Asia, maybe offshoring make sense for you. But if your company is based in United States, Canada or even Latin America, then nearshoring a better for you regarding to time-zone, cultural similarities, team communication, etc.
Most of the 4Geeks Teams customers have moved to us because of bad communication, technical/business advisement, and impossibility to start meeting at nights with their team in India, Ucrania, Russia or Belarus.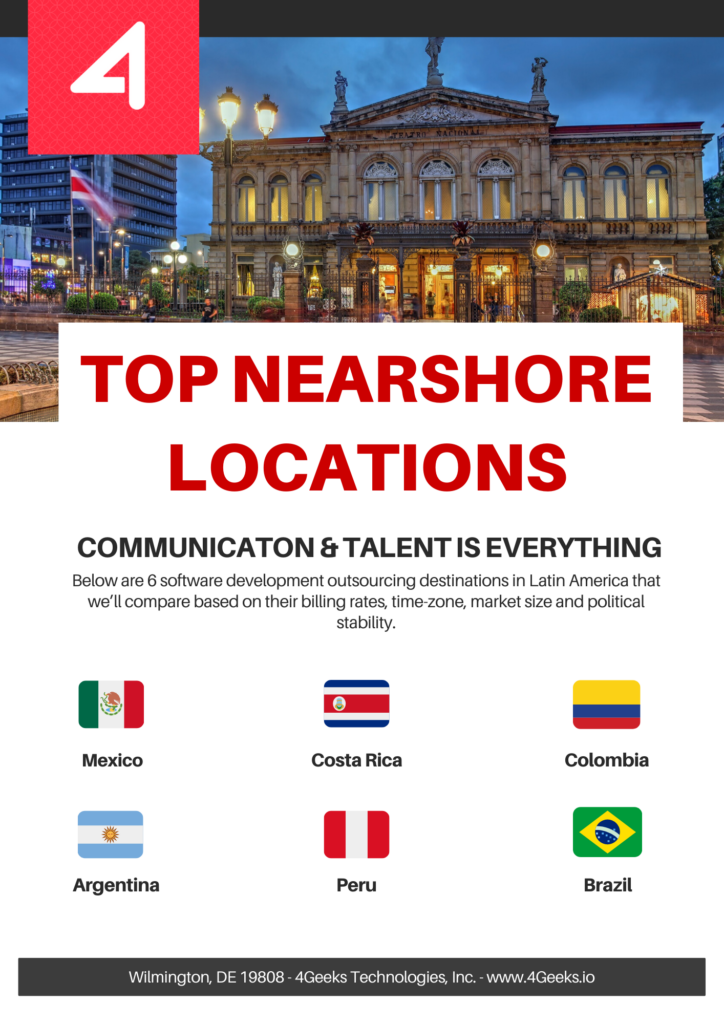 Benefits of nearshoring
Nearshoring is becoming a popular choice as many companies begin to favor the close geographical proximity. Nearshoring allows companies to bypass language barriers and cultural learning curves and reduce travel expenses.
Nearshoring provides many benefits, such as cutting expenses and guaranteeing better controls that will lead to higher quality products. It also offers access to more skilled workers and lower labor costs which improve both quality control and customer service.
Fewer time zone differences allow virtual teams more ease in making decisions and there is an improved time-to-market schedule. This leads to a workforce that is more stable and productive.
Outsourced employees can easily experience burnout if they are frequently working overnight. Nearshoring gives the option to possibly eliminate night shifts altogether, improving both the quality and employee retention.
The location of both the original company and the nearshoring location allow the option for in-person meetings.
Intellectual property is safer and less likely to be stolen in a nearshoring location.
Nearshoring allows companies to stay close to their client base.
Want to go deep? Read this article on IT Today.
Should I move my team from India to Latin America?
Offshoring (India, Ucrania, Belarus, etc) is usually cheaper than working with companies in local markets or nearby countries (nearshoring). This is because their economic situation allows them to set lower hourly rates and is the main reason outsourcing became a favorable option, to begin with.
Business depends on human talent and communication to solve daily issues.
If you are building a digital product (SaaS or other) and currently you have a team with more than 5 engineers or software developers in India, then you will find value on nearshore destinations.
How to get started?
You have two options to hire software engineers and digital consultants on Latin America (nearshoring): doing everything yourself, or leveraging on built talent pool or agencies/platforms.

Doing everything yourself:
Indeed you could start hiring the first members of your team in Latin America, on your own. However, if you don't know the talent market or the culture, things could become not so easy.
But if you decide to give a try, start by posting the job position on your own website or third-party websites like Remote LATAM, where you can post a job for free. Then post the job position url on social media in order to attack interested candidates. Once you get first candidates you should adjust your strategy.
Agencies or platforms:
There several vendors focused on helping you to start your engineering team in some countries in Latin America. I will suggest you what I know and what I tried.
4Geeks Teams is a good option to create your own engineering team in top Latin America regions. 4Geeks Teams covers everything you need, including workstation, accommodation, perks, office, payroll, etc. You don't need to pay any extra fee or even a recruitment fee. You only will pay the engineer salary montly.
Engineers salary starts at $2500 USD a month. Click here to hire a software developer in Mexico, Costa Rica or Colombia, and receive tested candidates within 3 days.
About 4Geeks
Founded in 2012 by Allan Porras, 4Geeks is a global software engineering and revenue growth consulting firm for Fortune 500, Global 2000 and fast-growing SMBs. Provides top solutions to multiple industries including Retail, Healthcare, Banking & Financial Services, B2B SaaS, Manufacturing and Education. HQ in the USA, and delivery centers across Latin America.