What Are The main Differences Between Offshore, Nearshore and Onshore?
First of all, when we talk about offshoring, what comes first to your mind? Many of you might think in outsourcing right?, well this isn't that far from true, basically the term "shore" in the phrase it's related to outsourcing software developers from abroad, taking into account that there exist markets with skilled and affordable talent. There are three concepts you need to know: offshore, nearshore and onshore.
Offshoring:
This consists in outsourcing business processes and software development abroad, usually there is a time-zoned difference of 8 to 12 hours. This model has more risks due to language barriers, and cultural contrast. This type of outsourcing is usually selected because it is less pricey than onshore services.
Onshoring:
This model consist in outsourcing the business processes and software development in a location located in the same country your company is working. In this case it is less risky, but doesn't allow you to save a lot of money.
Nearshoring:
In this case you do the outsource the processes to nearby countries, (about 2 o 3 hours from the home country.) This is considered like the middle country between offshoring and onshoring.
Why Should Your Company Consider Nearshoring In Latin America?
Latin American countries are raising in their services of nearshoring, when we evaluate why doing it, what rises top are: the effectiveness, a skilled workforce, cultural affinity, and of course language capabilities.
Here are some reasons why to take into account nearshore instead of offshoring: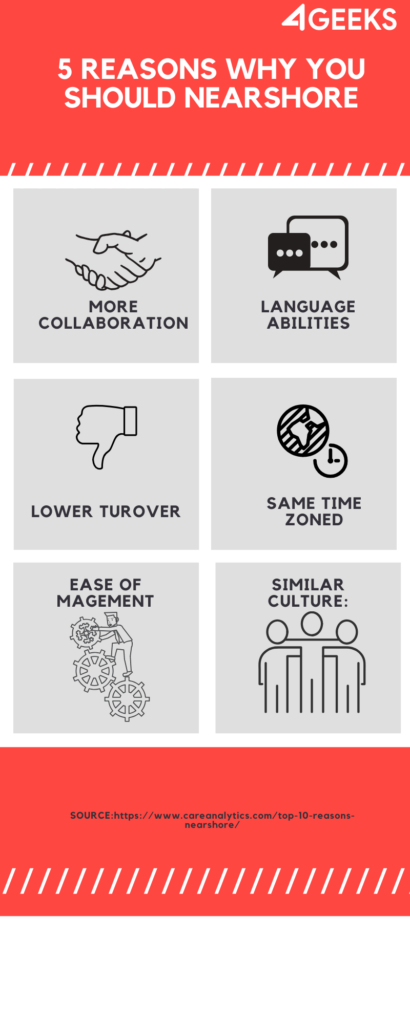 Cost:
According to an investigation conducted by Wipro consultation shown that as whole Latin America offers a wage arbitrage opportunity of about 30 percent when compared to U.S and Western Europe.
In this case Colombia offers the most favorable cost benefits in the region followed by Argentina. Nonetheless we don't know how long those savings could be sustainable taking into account that Asia has the highest real wage growth, for example salaries in Asia forecast to increase by 5,6 percent, up from the 5.4 percent last year.
This numbers inflation adjusted takes the real increase for 2,6 percent, the highest globally. Also a study conducted by A.T kearney shows that Latin American can deliver labour wage cost savings of 20 to 40 percent.
Language abilities:
Latin American countries are best known for the high level english skills, with allow their countries to provide services in both languages, right now the top 5 countries with the highest english proficiency index in Latin America are: Argentina, Costa Rica, Uruguay, Chile and Cuba.
Another thing to take into account is that, those countries have a neutral accent, this could make it easier for native people to have an easier understanding of the spanish accent, this is a really positive thing to have in mind if you want to nearshore to a Latin American country.
Similar culture
Other thing to take in mind is that North America and Latin America have lots of similarities, mostly because all of the media that USA produced is consumed by the Latin American countries.
Additionally there is a significant pool of qualified people that search for post-graduate degree programs, this people usually return to their home country with new experiences but also some of the cultural nuances of the of the adopted country, this could help to make easier new negotiation procedures and help with the process of nearshoring.
Same time zone:
Whit Latin American countries it's common to have the same time zone, or just a little difference of 3 to 4 hours with USA, this is really useful considering that company's can oversee and monitor the process, so there is a higher quality product. Another of the major benefits is the quicker response, and more control of the process without time delays.
Also this can reduce cost because of closer flights.
Local legislation:
For last but not least, you should consider the legislation, in the case of nearshoring is having a greater understanding of the country's changes in legislation and law. These are things you should take into account when considering nearshoring, there are many "hidden costs', like travel expenses, supply chain, that could make offshoring an expensive option than nearshoring.
Whit nearshoring in a closer country could be the easier and convenient solution for the company.
How Can You Achieve Success With Nearshoring?
To answer this question i want to start with the following premise: "Businesses need to respond quickly to a constantly changing environment" in the time we are living right now the necessities of the consumers have changed completely, customers has become more entitled, and want his purchases immediately, and of course with the highest quality possible.
Not longer is enough to give the product or service right, they ask for a discount, and free delivery when they make a purchase. Right now customers are asking for innovative ways to sell and deliver the product to them. That's why nearshoring and agile development shape a strong basis for a digital transformation, working on the type of products the "entitled customer" wants. To do this the business needs to respond fast to changing requirements and invest in digital transformations.
How?…You may ask, well business needs to start revising and improving their organizational processes, and taking advantage of the latest technologies, for example: Internet of Things this technology offers data to make decisions in marketing and make sales or Blockchain that works for securing transactions on the web.
This kind of advances are easier when you work side by side with partners's, mostly because you can watch how this experiments develop and the reaction of consumers, and decided on time if the works on progress needs a change immediately.This is where nearshoring, when combined with agile development works like a charm.
Costa Rica A Great Alternative To Do Nearshoring:
Over the past decade Latin American countries have emerged as nearshore outsourcing option, among the countries that are growing in technology related projects we can mention: Mexico, Panama and Costa Rica, this last one has seen a huge growth in the last years, becoming a excellent options for nearshore services, this is because the High Level English, and the Highly educated professionals, also is far to mention that the government is usually promoting this type of services.
Costa Rica is a country that can be considered "Americanized", mostly because a lot of the media consumed comes from the USA. So you better be sure you won't have problems with the cultural affinity.
Another consideration is the workforce, the Global Innovation index shows that Costa Rica is in the top three, just behind Chile. The reason behind this is because Costa Rica is one of the most educated countries in Latin America, considering that education has a really easy access the country has achieved a 98% literacy rate.
So you can count that your projects are going to be in capable hands, this is why Costa Rica is quickly becoming the high-tech/business hub. One of the many services you could find are: customer service, IT, Big Data, human resources and cloud computing and others. 
According to Auxis, outsourcing services can provide labor saving of 30 to 50 percent, this is for several reasons, for example the country's proximity to time zone with USA. Picking up calls in the middle of the night it's not fun for anyone, or hopping in 22 hours flights to check how the projects are progressing. Nearshoring has become the next way to take pressure off the company.
The world of outsourcing and his siblings nearshoring and offshoring can be really complicated, mostly because entrepreneurs have to take in mind so many factors that can make this kind of decision into a difficult task, thats why its really helpful to have in mind all the advantages and disadvantages.
---
About 4Geeks: 4Geeks is a global product engineering and growth marketing company, and all-in-between, focused on 10X ROI for startups, small and mid-size companies around the world. 4Geeks serves industries like E-Commerce & Retail, Startups, HealthTech, Marketing, Banking & FinTech and Real Estate. Headquartered in United States, and nearshore development centers in Mexico and Costa Rica. Pura Vida!
–> Hire tested software engineers within 3 days, with no fees.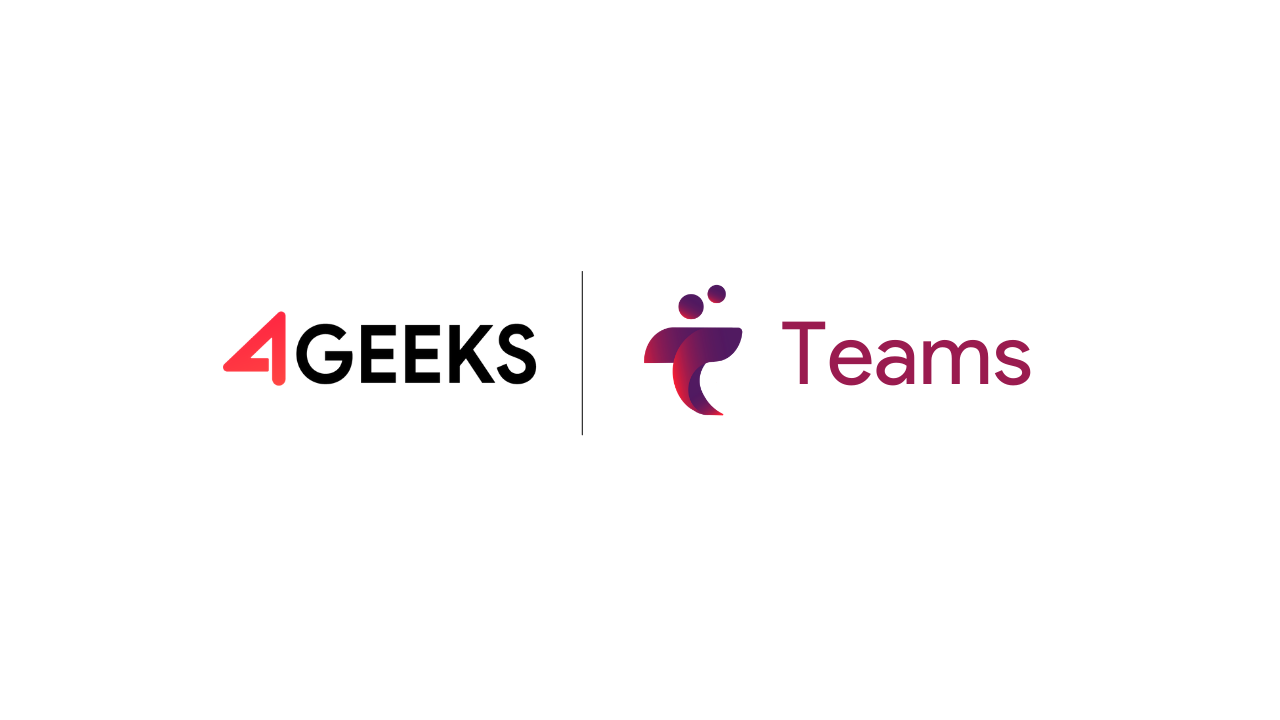 About 4Geeks
Founded in 2012 by Allan Porras, 4Geeks is a global software engineering and revenue growth consulting firm for Fortune 500, Global 2000 and fast-growing SMBs. Provides top solutions to multiple industries including Retail, Healthcare, Banking & Financial Services, B2B SaaS, Manufacturing and Education. HQ in the USA, and delivery centers across Latin America.